Stuff I like to talk about and share
June 2016
Fans of Gothic Victorian tales stay tune for my new book! That is all I have to say right now! :)
March 2015
I have a new children's series out in June. "In the Shadow of The Squirrel" Grade school fiction. On Sale June 2015! Until then Join the Goodreads Giveaway March 2015 open to US, UK and Canada,

Click here to enter and win a signed paper back copy!
I am also working on some back logged projects such as "The uprising" the sequel to the Mosswoods. That is actually being edited now as well a another YA book. If you have any questions, the best way to reach me is via Goodreads, Twitter or my Youtube Channel. Hope to hear from you soon!
Dec 2014
Wow Can you believe it? Another year is leaving us!With that being said, I would like to announce a new Children's book series that will be out shortly. 2015 is going to be a busy year with at least three, yes three, book releases from me.Two will be the new Children's series and one will be Book Two of the Mosswoods. I know, I have been promising that one for awhile but I hit a snag with the editor. So bear with me and continue your support it means a lot.
FEB 2014
Well it is finally out! The special art edition of HIS BLACK WINGS. Order it today on paperback. I am really excited about it. Mostly because now I can move on to my other YA project I have been working on since late winter.
Purchase "His Black Wings" Special ART edition paperback on Amazon
January 2014 Looking back at some neat stuff in 2013

This year I have seem to have a short memory span or that hasn't been to many things that have stood out to be this past year.
I bought this album for one song only and so far I am still only in love with one song from the group"Blue Foundation". The song is called "Shine" and I love it so much I am just going to add the whole album here.
I haven't laughed this much ( karaoke scene) in a long time.This was a really sweet Korean Comedy. This is not a series, but a movie.
This book made a lasting impression on me. While I try to stay away from books that are going to depress me for months on end( yes ignorance is bliss in this case) I had to pick this one up. Statistical study and information on the Juvenile court system in Los Angeles. Absolutely . Heart. Breaking .
Rune Factory:Tides of Destiny. Natsume of "Harvest Moon" fame and a series I adore, added many different elements to the series.One of my new favorite games. While I did not care for the first RFTD, I loved this follow up.
While there were a few other Korean Dramas that I finished this year, the one that I enjoyed the most was "You are beautiful"Please don't read in anything to the lot of reverse harem Kdramas I have been watching either!
December Updates-New YA novels,Graphic Novel negotiations for HBW &winner

I know I go stretches with out posting, then when I do, I tend to blather on."Small, controlled, bursts Ripley." I'll try to keep that in mind.First, I am in the process of scheduling my book tour for next year,it's based off of advanced reader copies which will be ready by the end of January 2014.It's another YA read, a stand alone,and I am undecided on title as of yet. Second,"His Black Wings" is being negotiated to be made in to a graphic novel.Third,I would like to congratulate the winner of the international swag bag giveaway for "His Black Wings" Goodies, Filia Oktarina .It's on it's way out to you! There will be lot's more giveaways this coming year.-
October Updates-The Uprising Release , New Cover for "His Black Wings and giveaways

The Uprising is in it's beta reader phase right now and I know it's been long in coming.Thanks goes to all you very loyal and supportive people who have encouraged me and nudged me to finish the sequel to the Mosswoods. I suffer no illusion that I am a fantastic writer,I am just here to share the stories that pop in to my head and I hope I can give some of you a pleasant escape for a day or two. His Black Wings is getting a new cover in November so keep a eye out for that.
There is also a giveaway that "Say it With Books" Book Blog is doing right now so get over there and enter! His Black Wings Giveaway
September Updates-The Uprising

I haven't gone silent I promise! In fact if you head over to my Goodreads account you will see that I just wrote a piece for Indie authors. Also The Uprising is still being edited and copies of the re-edited "The Mosswoods" are being given out for giveaways on my various feeds.I will be starting a book tour for my new book that will be coming out early next year so stay tuned for it!
End of June Updates-Cover for The Uprising and new project

Wow, so I have been so busy it's not funny. First, you have to check out this cool video with these gals talking about " His Black Wings" and the New York Book Expo.
Second, I am happy to announce that the editing is done on The Mosswoods. I have to apoogize for the delay to everyone who has emailed me looking forward to it. I had caught a monster cold. And I do mean Monster! Now Editing on The Uprising ( Mosswoods#2) will begin soon. I am shooting for the end of summer for "Uprising".
Third, I have a exciting new project that is pretty much writing itself. I am really excited about it since it's a little different then my other projects as in not fantasy.For that, I am shooting for December/Jan. The subject matter is a little darker then what we are all used to on my usually happy little pages. Hint: It's another YA release though. Until then mums the word.Mum!
April 2013 News-- New York Book Expo, His Black Wings,Iconic Author Terry Brooks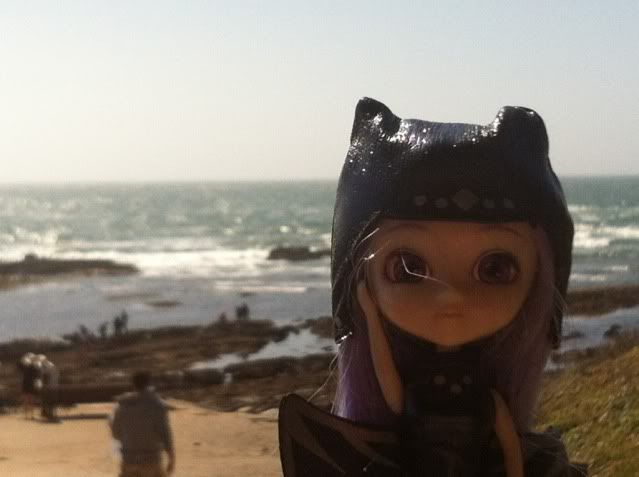 Hello! This is a picture I took this past weekend from Fitzgerald Marine Reserve in Moss Beach,California.They have a very large strip of tide pools which I love to visit. * April has been very busy for me. Jill Swanson from "Little Hyuts " book blog has just finished up the last editing round of "His Black Wings" and I owe her a great big thanks. *
Also I am just waiting on the redone cover from FredJack Studios for the Mosswoods then I will post it.I'm pretty excited with the brand new face up for it. *
"His Black Wings" is going to be at the New York Book Expo in MAY.Is anyone else going to be there in person?
Also I have been getting in some of the nicest letters from people who have read HIS BLACK WINGS. I just want to thank everyone who takes the time to share your thoughts with me on HBW.
Last but not least , I am super excited to take part in a discussion with fantasy author Terry Brooks on Monday. Mr.Brooks was one of my first intros to fantasy and strong female characters. picture: Doll=Pullip
Feb-2013Moving catalog , editing etc
As I mentioned on Goodreads, I have pulled the Mosswoods from the Shelves so I can have it re-edited. I am excited to see the results as I am sure all of you are. I am also working on the sequel so that they will both be released in a timely manner. I am currently in the process of moving books over to Amazon. Some titles are 2.99 and below or free!I have a lot more exciting releases planned for this year including some children's books so stay tuned!
Jan. Hello 2013 and a review of neat stuff from 2012 News

I love discovering new stuff so I put together some new cool things I discovered in 2012. They may actually be old things to some of you, but to me they are new!Be warned , there is a tendency to lean towards a particular culture with this post.Some people may wonder why, but its fairly easily to explain. I grew up around and went to school with Asian people, Korean,Japanese,Chinese, Philippinos, Laotians etc.
So it's a not big surprise that I have watched Anime since I was in elementary school , married an Asian man and speak Japanese. So here comes my new favorite things . Not all are Asian though.
2012 New Music
Kyary Pamyu Pamyu (きゃりーぱみゅぱみゅ, Kyarī Pamyu Pamyu) - Fun ,happy and cute Japanese music. Album is titled Moshi Moshi Harajuku
Kim Hyun-joong.Yes I have known about SS501 and like them but it wasn't until 2012 that I started to appreciate Kim Hyun-joong solo songs.
..And nobody cared.. is a great trance ,trip hop,dub, I don't know what else band from Poland that sadly is not together anymore. You can find their album online for free though.
2012 Movies-
I do not know when the Avengers came out but I barely got around to seeing this. Partly because I may go to the theater once a year. I was quite happy with the snappy dialogue, and when usually to many 'action' sequences bore me, I found these ones pretty good.Monster design was also creative.
For someone who looks like they could be related to Brad Pitt I was not expecting much in the acting department for THOR but again I was surprised.I actually laughed a few times at the dialogue and was pleased with the all the visuals.
Two faces of my girlfriend is one that I actually saw 2 years ago but I wanted to share since its such a great movie. It has romance, comedy,quirkyness,tragedy and a cute ending.
Lovely Com is another live action movie that I saw many years ago based off of one of my favorite managas also turned Animes,but I wanted to include in this list. Its very sweet and funny.I would recommend to either read the manga or watch the anime as well.
2012 Korean Dramas I finished
Coffee Prince A very cute girl posing to be a boy K-Drama.
Hana Kimi aka To the Beautiful You( This is the Korean Version) I enjoyed this one which is another tale of a girl hiding in a all boys school.
Hana Kimi is the Japanese version which is shorter but just as cute.Hana( Flower) Kimi (you) is a Japanese manga.
2012 Games I started playing
Chocobo Dungeon.Well I started playing Chocobo Dungeon in December after I bought it used at the Daly City Game Stop. I have played other games in 2012 but none worth mentioning.
New Young Adult Authors I started reading in 2012
Cyndi Tefft
Red Tash
The last picture of 2012 to make me laugh
Well that is it for now. Don't forget to pick up my new book also written in late 2012 called His Black Wings in paper back and Kindle on Amazon. I still have the "Win $200 Dollar Amazon gift certificate: promo for the best Verified review on Amazon.We'll pick just one winner for publication.I look forward to finding new authors,new games,new music and new Asian dramas to share.If you have any to share with me drop me a line!
Winter December 12, 2012 News

Hi Guys!, In order to celebrate this day-12-12-12 I am running a cool contest for a $200 Dollar Amazon Gift Card.You can check out the details here: For even further details (html) http://hisblackwings.com/contestrules.html
Autumn News
I made an additional give away at GoodReads for :His Black Wings;Click to go to Good reads and enter!
This is different then the Giveaway at Little Hyuts blog( down below)
Cover reveal and Giveaway for His Black Wings.
Summer 2012
August 2012
His Black Wings will be released this November 2012! Also The Zombie Playground: A Creature Compilation is now on epub
July New Release! Young Adult Compilation, "The Zombie Playground; A Creature Compilation" Now available in Paperback!
The Uprising, ( The Mosswood Sequel) Out Decemeber 1st 2012
Older News
Summer 2011 News
Childrens books, The Mysterious Pootkins,released in hardcover.
The Mosswoods published to Kindle Books. Availble at Amazon ©
Fall 2010 News
Astrid has teamed up with the talented Illustrator Joanne Duong for work on the newly released childrens book , "The Doughnut Tree."Available now in hardcopy or download.
Illustrator Joanne Duong's Bio: " I'm a passionate Artist, Designer, and Photographer. My art style are very Japanese Animation influenced but at the same time I usually incorporate my own sense of creativity in the art as well. I love to learn so I'm always looking for new things to do and learn. "
Contact info:
Joanne Duong
www.joanneduong.com
email: jd@joanneduong.com
Date: Saturday May 15th
Time: 12:30 Location: Holiday Inn Downtown Mt Whitney Room
Please see : Wesbite: http://www.ccbjd.org
for more information on this event.
Also present will be "Resin Life" author Wendy Bailey.She will be giving away a few signed copies of her book on BJDs.
Website:http://www.resin-life.com/
News
This is the page to look here for *new* news regarding projects and appearances!
Recommended Reading, Click here for some great books by other authors!